At the beaver pond
classic saddle roof S7/105, 20° roof pitch compact and efficient
Project data
| | |
| --- | --- |
| Plot: | 971 sq m |
| Living space (as per DIN): | 153 sq m |
| Area of ground floor and top floor: | 166 sq m |
| | |
| --- | --- |
| Tent-roof framing: | 20° |
| Enclosed space: | 762 cu m |
That this project even came about we see as the result of a particularly successful collaboration between our client and our company. Because the client and his wife had expected much higher construction costs than was the case in the end, our plan to collaborate on this project at first did not materialise. It was only after a casual, or rather a chance discussion of the cost issue that we could begin considering ideas for a design.
The house was designed to serve our clients as a retirement home. An important condition of the planning was that adequate consideration be given to the location of the building plot, which is in an absolutely unobstructable area at the edge of a town. To the east the plot borders on a landscape of wide meadows and moors and a small lake inhabited by a pair of beavers.
The property can be accessed from the west by way of a path annexed to the garage and a small entrance courtyard. The residential building was planned with two full storeys and a saddle roof with a 20° pitch. The floor plans are drawn up on the basis of our classic series S7/105. In this regard some of the walls on the first floor were removed to enable the construction of a large studio. Our plans show here the top floor first as it was built and then, however, also as it was envisaged after a request for more bedrooms and bathrooms. The pure classic floor plan, with a guest room, a shower and a kitchen, and a living and dining area facing south and east, was implemented on the ground floor. Our ground floor plans show quite clearly the interfusion of indoor and garden spaces in all of the rooms on the ground floor.
The major topic concerning the planning of the garden was that boundary on the eastern edge of the property in the area of the adjoining meadow and moor landscape no longer existed. For this reason our plan refrained altogether from putting up a fence here. By designing small modulations of the terrain and gravelled areas as "flowing forms ", the strictly geometric line of the plot's boundary was removed. In the northeast section of the plot a large garden terrace with a raised sun deck constructed of wood was built over the gravelled areas. The neighbouring buildings north of the plot were hidden by an arrangement of constructed garden walls and wintergreen plants.
A smaller project that gave us and also our client a great deal of pleasure!
Floor plans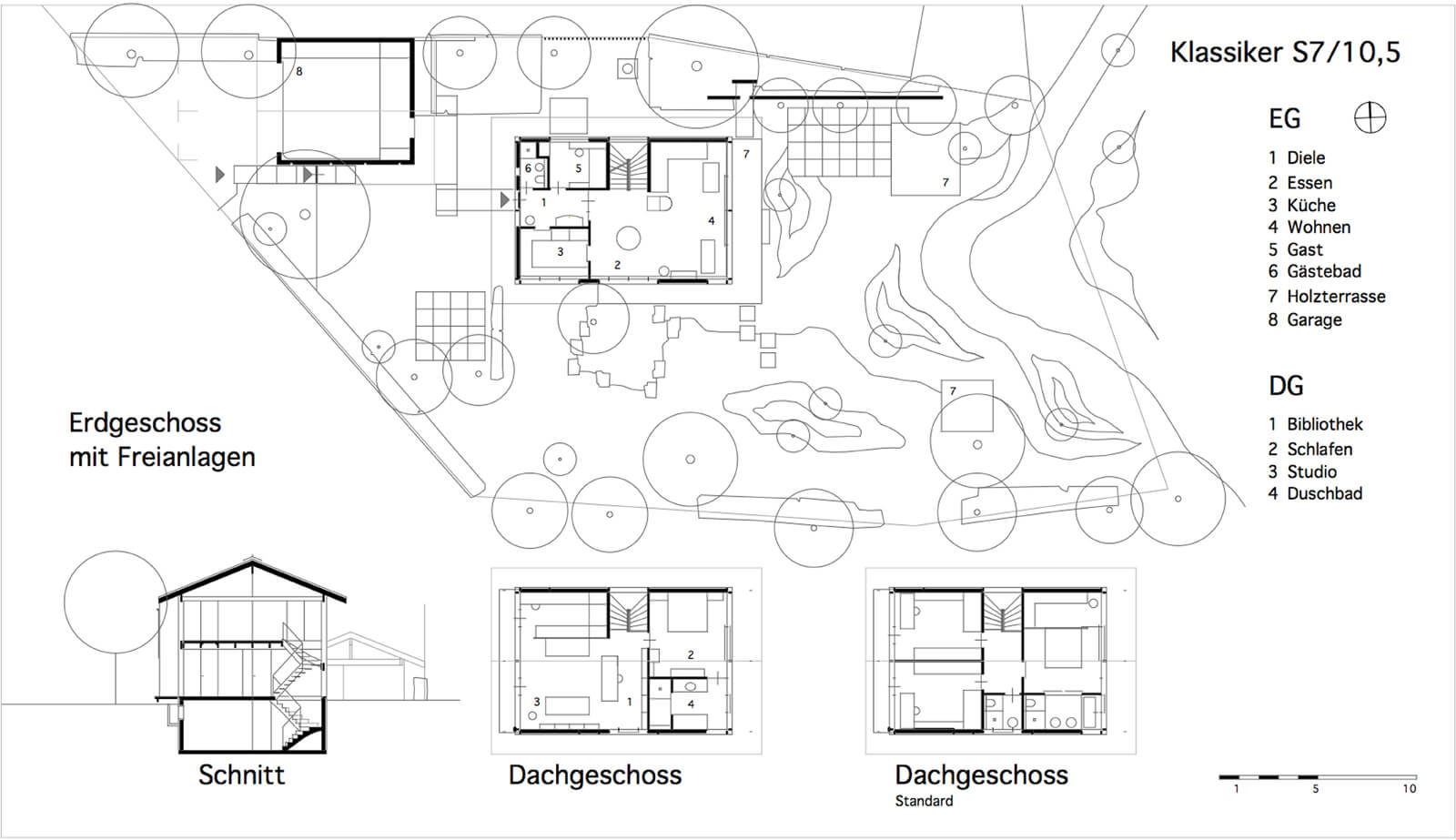 Gallery