Building
The classic house
In this line, we develop your house on the basis of a series of ready-made designs and floor plans, which in the meantime representsthe distillation of our more than 37 years of experience in house building. They are suitable foralmost every plot and the most varied building regulations. Their simple, classic system is asymbol of technical, commercial and architectural reason. The efficiency achieved in the area of building planning results in substantial cost savings, which we can pass on to our clients in the form of a discount of up to 10%.
We can provide these buildings with the following roof shapes: saddle roof, tent roof and flat roof. The saddle and tent roof shapes are designed with various roof pitches and knee-wall heights. All roof shapes are available with different kinds of floor combinations (ground floor, ground + top floor, ground + 1st floor, 1st + top floor).
In addition, we have developed a number of useful, very attractive and individual add-on services, which permit significant spatial and functional enlargements in important areas of the house. Our clients have a free choice in the number of bathrooms, the possible addition of elegant glass bays, balconies or walkways. The integration of framework design just as a hillside floor is also possible in a strong architectural unit.The final details of the house are in turn selected with the freedom that is typical for WerkHaus.
What do the figures in the development plans mean?
The figures specified here refer to the interior dimensions of the houses given in metres. Thus, for example, here we have 7.00 x 10.00 m. The thickness of each external wall, which is 0.31 m, is then added to these dimensions, making the external dimensions of the house in this case 7.62 x 10.62 m.
The point of calculating in this way is to have available a consistent geometry as a framework for arranging all structural elements in the interior of the houses. Integrated into this geometry are the ceiling beams, supports, windows and to some extent interior doors as well as the seams between natural stone slabs or along built-in wardrobes. This also applies to the bathroom facilities, the lighting or the curtain systems.
The most important reason for the clarity of our floor plans is found in this geometrical order. The houses appear neat and tidy, and the rooms are calm and forceful.
Saddle roof houses

In this line we offer our clients modern, classic saddle roof houses in different widths and depths. The inner, clear knee wall height varies between 0.80 m and 1.30 m; the roof pitch is between 30° and 40°. Furthermore two-floor buildings with a 24° roof pitch are available. Even today the saddle roof house is still the most successful type of contemporary detached housing, because of the very favourable relationship between living area and "enclosed space". Very functional and liveable floor plans can be designed under its wide-spreading roof.
Tent roof houses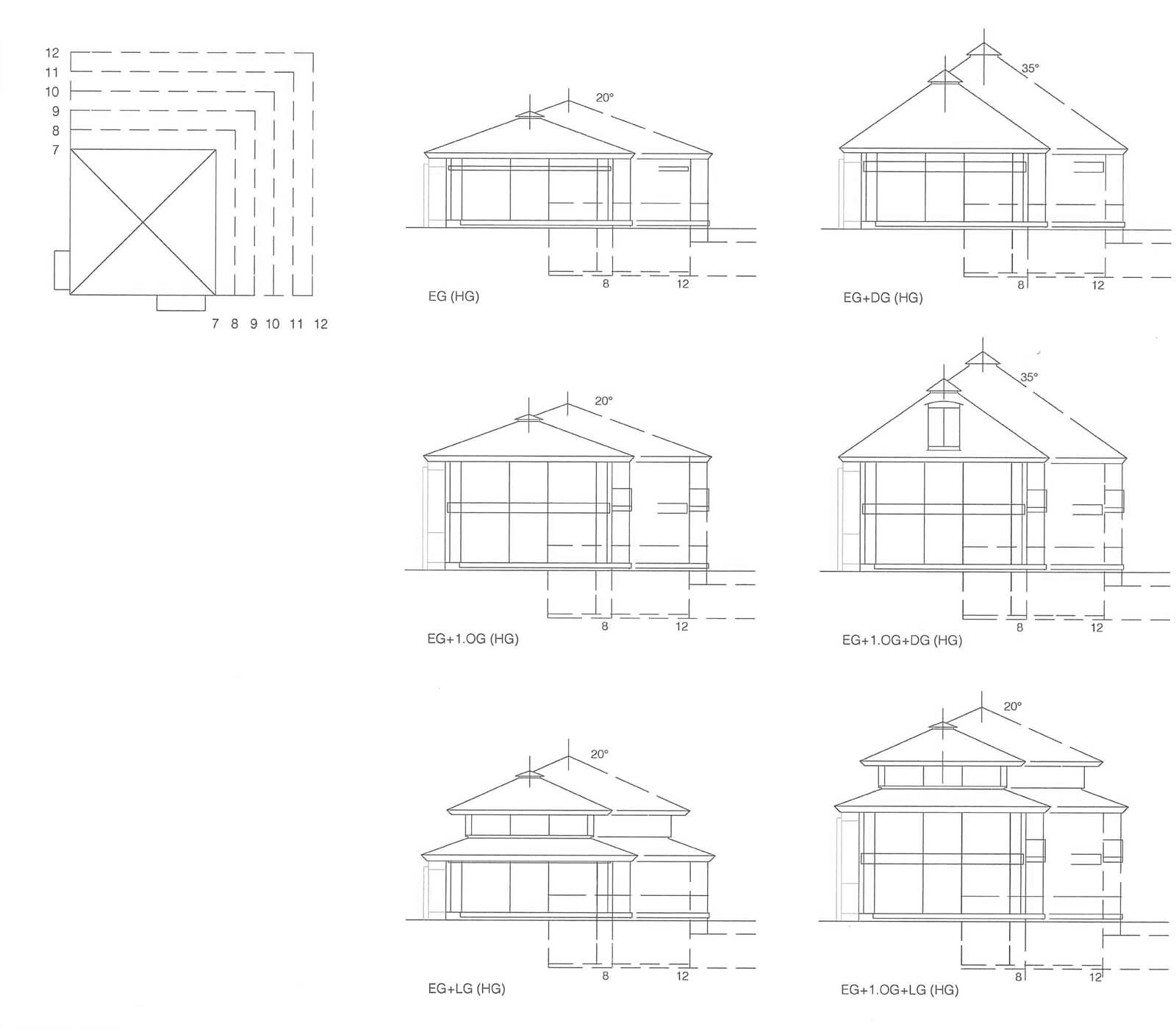 Our tent roof designs have become an increasingly popular choice for our clients living in urban residential settings. The very elegant, classic villa design allows very effective solutions to be developed with even more generous spatial effects even on small plots and with close neighbouring buildings.
Flat roof houses

Our flat roof houses are without a doubt currently the most modern form of structure developed by our company. We offer these buildings with the floor combinations ground floor and ground + 1st floor, but also with a hillside floor if a suitable hillside location is available. Because of its simple roof geometry, this form of structure makes it possible to draw up particularly precise floor plans. The ceilings and roof framing can be constructed with both a smooth soffit as well as with visible joists.
Pavilions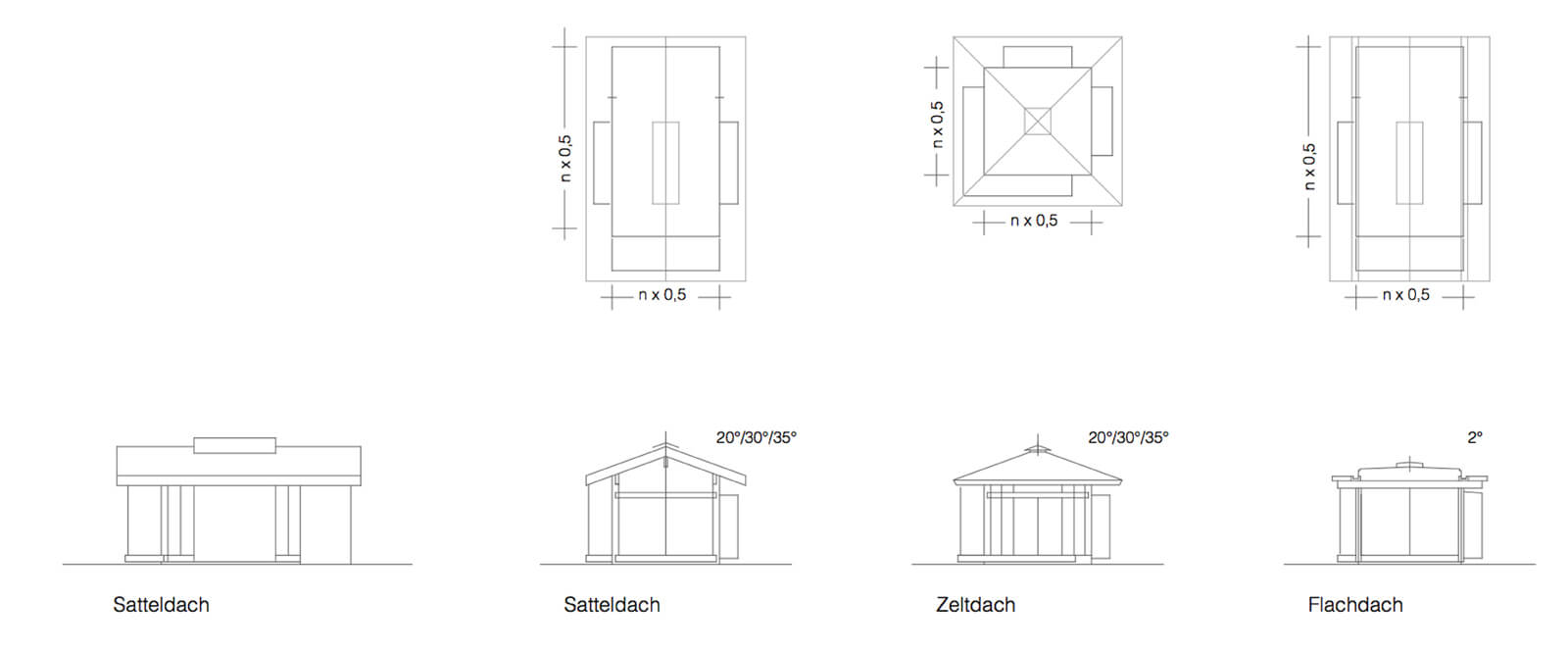 Our pavilions can be planned as garden houses, guest houses or wellness houses. Of Course further uses for living or leisure purposes are possible, too.These very graceful buildings are the perfect complement to the houses and gardens of our clients in simple or more sophisticated designs. They can beplanned as separate structures in gardens or also be linked to the main house by way of connecting paths to form a functional unit, thus creating building systems with spatially complex designs.